NOBELGAZE
FALLEN SHADE FALLON
Attention owners of puppies out of Fallon!!!

We at RedLegends have decided to remove Nobelgaze Fallen Shade Fallon from our breeding program. We will submit our pedigree changes from Fallon's past litters for amendment but she will no longer be bred. I find I will always be questioning her parentage and do not feel comfortable with this.
Nobelgaze Kennel (Donna and Laurie Deschambault) have refused to supply DNA proof of parentage. I am told by the CFC (Canine Federation Canada) and the CLRC ( Canadian Livestock Records Corp.) that Mrs. Deschambault has satisfied all the CFC & CLRC requirements regarding this registration error. Both organizations will no longer be involved in this issue. There are no further requirements needed such as DNA testing to correct this registration error. I find it upsetting that even after such a long period that one does not have to provide proof. I am most disappointed and shocked that Mrs. Deschambault, given her position of VP in the CFC, refuses to submit DNA to ensure the veracity of the CFC's records.

RedLegends has received a letter informing us of an erroneous error of registration that has been discovered by Nobelgaze kennels. This concerns the registration of a litter of the dog known as Nobelgaze Fallenshade Fallon.
The error mentioned above is that a incorrect dog has been listed as the sire of this litter. The correct sire is Nobelgaze's Sir Dashing Draco.
If this is the correct sire your correct pedigree would be as followed:
Sire

Nobelgazes Sir Dashing Draco

Sire

Darkar

Sire

Darkon Emperor De Arena

Dam

Kalana Empress De Arena

Dam

Hyiynx's Milt's LiL Flower

Sire

ThunderPaw's I'M Milt

Dam

Nolana's Delta Gawn

Dam
Nobelgaze's Leap of Faith
Sire
Darkar
Sire
Darkon Emperor De Arena
Dam
Kalana Empress De Arena
Dam
Hyjynx's Milt's Lil'Flower
Sire
Thunderpaw's I'M Milt
Dam
Nolana's Delta Gawn
Nobelgaze has offered to rectify this situation by asking us "RedLegends" to remittance of our original registration certificate for Fallon to have the registry amended, " RedLegends" has declined this offer. Given that this error came to the attention of Donna & Laurier Deschambault of Nobelgaze Kennel 4 yrs after the fact it is only prudent that we require DNA proof of parentage ( MMI) prior to any registration amendment. We at RedLegends must know beyond a shadow of a doubt that our registration is accurate. This is a most disappointing scenario. We apologize for any inconvenience and hardship that this unfortunate situation may have caused and we hope to rectify this in the very near future. Please keep updated for more details. Your patience is most appreciated.
Cathy & Kirk Smith
Fallon is my youngest daughters dog. They are forever together and the best of friends. Fallon will do anything to please my daughter from sliding down the hill in the summer in her kiddy pool to playing dress up.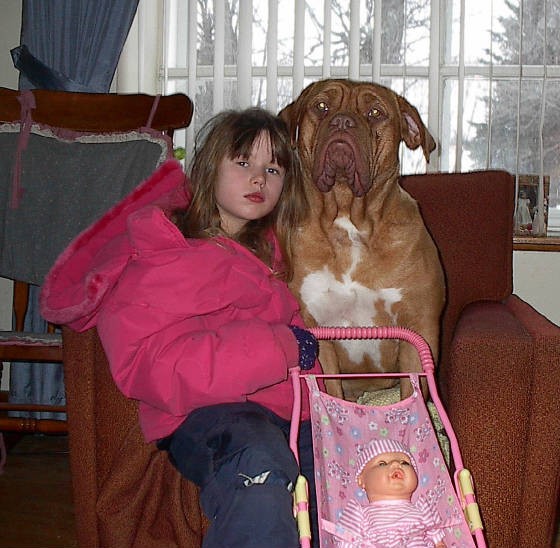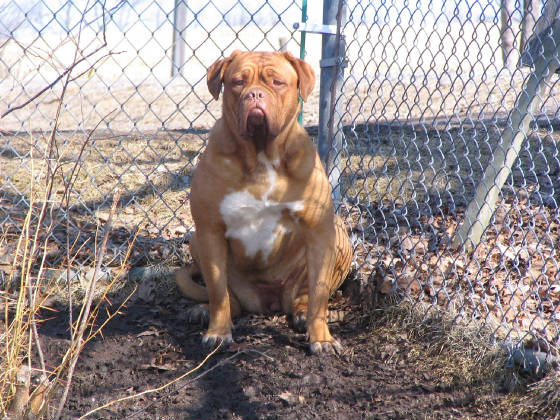 Sire
Nobelgaze Warlock Spells Hocus
Sire
Northland's Wilhelm
Sire
Ch. Gibson Of Avalon Norris (Bullwinkle)
Dam
Northland's Daisy
Dam
Nobelgaze's Fuzzie Mudpie
Sire
Darkar
Dam
Hyjynx's Milt's Lil'Flower
Dam
Nobelgaze's Leap of Faith
Sire
Darkar
Sire
Darkon Emperor De Arena
Dam
Kalana Empress De Arena
Dam
Hyjynx's Milt's Lil'Flower
Sire
Thunderpaw's I'M Milt
Dam
Nolana's Delta Gawn