If Tears,
Could Build a Stairway,
And Memories a Lane,
I'd Walk Right Up,
To Heaven and Bring You,
Home Again.

Bronze De Domaine D'Aquitaine
Breeder: Betty Straatman (Netherlands)
Born: October 12, 2006
Died: March 15, 2008
Sire: Benhur delle Querqe Rosse
Dam: Baco van de Weelsedijkhoeve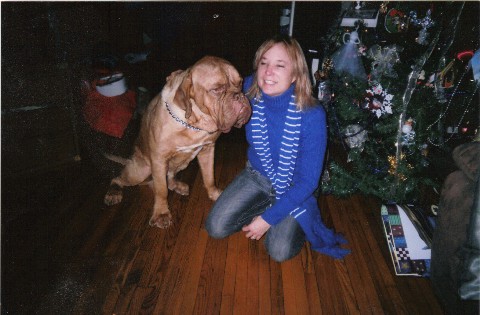 Bronze and Myself, our last Christmas together, December 2007
On a winter day in December just before Christmas I picked up Bronze from the airport. It was love at first sight!! and our close bond began. Bronze was my shadow, it did not matter where I was he was always by my side. Yes I spoiled him but how could I not. Anyone that saw Bronze with me knew how deeply he loved me and how much I loved him. At the age of 7mths I started to notice changes in Bronze, his coat started to not look healthy and weight gain was beginning to be a problem. I contacted his breeder and was told this was common in his lines. We tried many different diets but Bronze was not getting better. We had Bronze to the vet often thinking it was allergies, running tests. Finally I asked for a full blood panel to be done on him and the results tore my heart in two.
Bronze was in advance Kidney Failure.
I contacted the breeder and through many emails I realized that she was not the ethical breeder I thought she was, we were on our own.
During this time we also found that Bronze's brother Barkley (owned by a close friend in the USA) was diagnosed with the same problem. Though not yet in the advanced stage Bronze was, the end results would be the same..death.
There was nothing we could do but to give him special diets and make him comfortable for what time he had left. I spent Bronze's last 3 weeks giving him joy and love.
Click on pictures to enlarge